Discover more from The Scarf My Father Wore
A newspaper covering Stockport County, football in general, the town of Stockport, and anything else that tickles our fancy. Lovingly produced and curated, delivered via email.
The king has had his coronation, now let's have the Swindon summation…
The Robins were in the play-offs at the end of January, but drifted away from the promotion picture, winning just four of their last twenty games
Wednesday 31 May 2023
Dear County fans, Stopfordians, and any Swindon supporters joining us today, a very warm welcome to your Wednesday edition of The Scarf My Father Wore.
Our 2022-23 review continues today with Rich Pullen, host of The Loathed Strangers Podcast.
A big thank you to Carrie Burke Tutor Work for sponsoring today's edition.
Des Junior
Any Swindon fans reading this today? Subscribe for free by clicking the button below. We publish at least 3-4 features every time County play the Robins, plus articles such as this one from time to time. There's also loads of other general football stuff on a regular basis - book extracts, interviews, groundhopping tales etc.
---
Had King Charles invited you to his coronation celebrations, and insisted you brought him the best food you'd experienced inside a League Two ground this season, what would you have treated him to?
Chicken wings, Newport away. Not in the ground but at Tiny Rebel. Always a highlight of a League Two season.
Charles is now king of the UK. But who would you choose to be crowned king of the County Ground, and who would be locked up in the tower? You can pick anybody who's had some sort of connection with the club this season.
The fans were the best thing about 2022-23 – we all deserve a crown, frankly. We put our money down, we turned up and did our bit despite the football not being that great. 10,000 for a dead rubber final day was a good example of this.
Locked in the tower is former sporting director, Sandro Di Michele. Gave it the big one, went very quiet when it all went wrong, and then departed once the damage was done.
Best moment of 2022-23?
The buzz Charlie Austin's return to Swindon gave the fanbase, before he then scored on his return, netting the first goal in a 5-0 home win against Grimsby.
Worst moment of 2022-23?
Every time we surrendered a slender lead in the final 10 minutes of the game. It happened over and over.
Funniest moment of 2022-23?
Scoring four goals at relegation-elect Rochdale (all four scored by Austin) and not winning. You've got to laugh, right?
Four Four Two said you'd finish 7th. When Saturday Comes said you'd finish 1st. You finished 10th. Discuss.
You've got to be positive for the nationals, right? I predicted 10th in my own podcast predictions and that's the one I'll be counting.
The play-offs were realistic and progress from last season was essential. Despite rarely convincing, we did maintain a bit of a play-off push during the first half of the season but Town shot themselves in the foot multiple times over the course of the year.
A failed season and it was completely self-inflicted.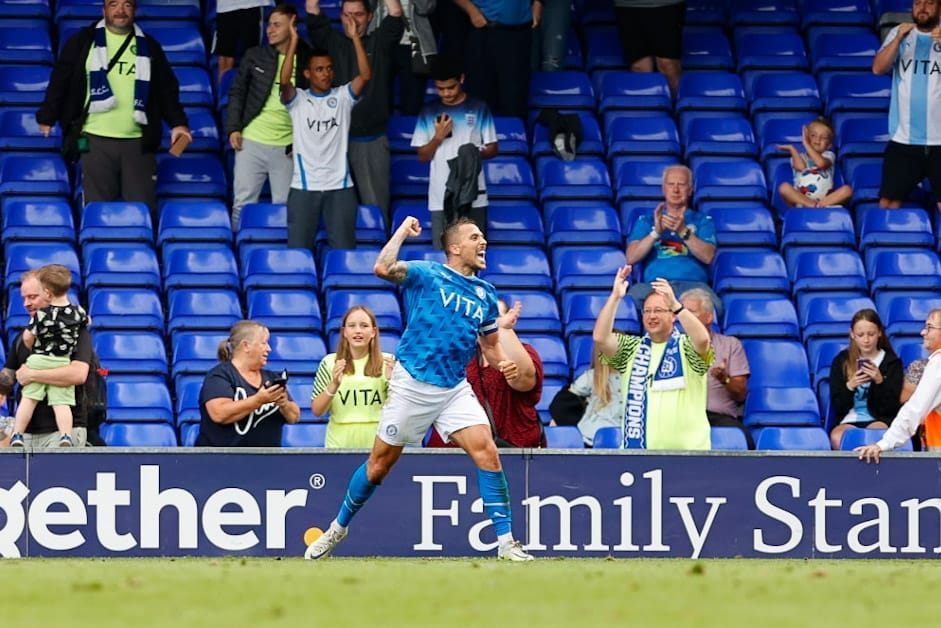 County 1 Swindon 1 in August. Swindon 0 County 1 in March. Thoughts?
Our first late goal faux pas of the campaign. County endured a shaky start to the season and Swindon should have seen the game out when you went down to 10 men on 80 minutes but Sarcevic scored four minutes later. One of many missed opportunities over the season.
We did alright to hang on at our place after Wakeling was sent off inside the first minute, but County didn't really bombard the Town goal as we expected. Could/should have been worse.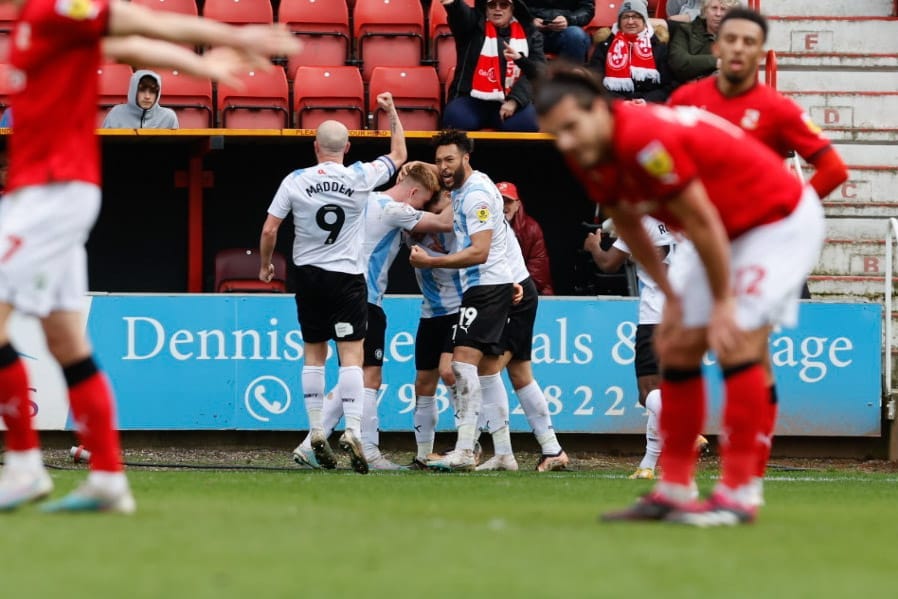 Best away day of 2022-23?
I had a great day at Orient, surrounded by good pals… and we didn't lose!
After decades travelling around the world, Sir David Attenborough's most recent BBC documentary covered Great Britain. Let's imagine David and his crew have been filming Swindon fans throughout the 2022-23 season. In that famous voice of his, how would he describe them?
"The young, enthusiastic Swindon Town try to keep up with the more wily contenders in the promotion pack. However, its inexperienced leader is agitated by the negative noises of its followers and abandons them for another lesser set leaving Swindon needing to rebuild. The new leader is proud but doesn't inspire and the team spirals wildly. The new leader is also banished with Swindon surviving with the middle order but closer to doom rather than glory."
With Wrexham up and MK Dons down, there's a couple of teams coming into League Two who generally cause quite a lot of debate wherever they go. You're on Moonpig.com buying a welcome card for both of them. What messages are going inside?
MK Dons: "Welcome to the Premier League back to League Two!"
Wrexham: "Congratulations! But keep the noise down, please…"
Click on the links below to read the previous 2022-23 reviews we've published so far.
Grimsby / Leyton Orient / Mansfield / Newport / Sutton / Tranmere / Wimbledon
---
Help your child figure out the answers
If you're a County mum or dad, now that our division has been confirmed for next season, your child might have some burning questions surrounding some of the new teams joining us.
Where exactly is Forest Green?
Why are all 46 of Wrexham's league games on Sky?
Should I boycott MK Dons away?
Why not hire a tutor to help your child with all of these complicated issues? Allow us to introduce you to Carrie Burke Tutor Work.
I mean, Carrie's not really there to teach your child about Nailsworth, Ryan Reynolds or that curly-haired twit in Buckinghamshire, but she is on hand to help in many other ways.
The business caters for Key Stage 1-4 children and young adults who either need extra support in their English and maths learning, or to help prepare them for entrance examinations.
Carrie and her team deliver quality primary school teaching and learning via group, individual and online delivery. All teachers are fully qualified with extensive experience and love educating children!
They progress your child academically with increased self-confidence and belief, through connecting and creating successful relationships with children and parents. Using creativity to plan fun, exciting lessons they help children to solve challenges with support and positivity.
Visit carrieburke.com for further details.
---
Today in SK
☕️
Food and drink
☕️
How do you fancy a nice iced cappuccino today? Head down to Coffee Block (SK1) for their CUBO espresso over ice, filled with shaken milk and topped with chocolate! Open till 5.30pm.
🍺 Fancy a few midweek drinks tonight? The Nelson Tavern (SK1) have a great range of offers throughout the week, including £4.50 for drinks off the Doubles Bar, a comprehensive range of shots for £2, and 3 for £6 on Jägerbombs.
🐟 For those on a gluten-free diet, finding a nice portion of fish and chips to tuck into can be quite difficult. But on a Wednesday at Fishers of Cheshire (SK2), gluten-free meals are available. Open till 9.30pm.
🍹 The Armoury (SK3) have just launched their new cocktail menu. Mark Stott definitely wouldn't mind a Red Wine Cobbler, and Lee Todd's going to be getting stuck into a Lounge Lizard or two. There's eight cocktails to try in total; head down today to see which one tickles your tastebuds!
🍷 Wine Wednesday at TRUNK (SK7) from 5pm. 50% off all bottles of wine from 7pm.
The Scarf My Father Wore works closely with venues on a daily basis to bring you the most comprehensive guide to all of the best offers and events taking place across the whole SK region. Click on the links below for full details of everything taking place in your area over the next few weeks.
SK1 / SK2 / SK3 / SK4 / SK5 / SK6 / SK7 / SK8 / SK9 / SK10 / SK11 / SK12 / SK13 / SK14 / SK15 / SK16 / SK17 / SK22 / SK23
---
Never mind Google or Yell.com, we've got you covered
STOP! That got your attention, didn't it? Just a quick one… I'd hazard a guess that at some point in May, all of our readers will use Google or Yell.com at some point looking for a particular product or service. But before you do, please have a quick look at our own directory to see if we have what you're looking for. A number of great businesses support The Scarf My Father Wore, allowing us to publish fresh content every day, so let's send a few enquiries their way in return.
Click here to have a look at all the businesses in our directory.
---
Photo of the day
Edgeley Park, Stockport
Still need cheering up after Wembley? This ought to put a smile on your face.